Blink Threading Waxing Studio – Services
we are good at what we do
If you want to bring out the true beauty of your face, consider eyelash and eyebrow tinting. It makes a real difference in how you look. Are your eyelashes and eyebrows too light or too sparse? Do you just want a change? Eyelash tinting will bring out the depth of your eye color while eyebrow tinting will enhance the contour of your face.
Eyelash and eyebrow tinting is a semi-permanent dye treatment that takes about twenty minutes and lasts up to four weeks. At Blink Threading & Waxing Studio, we tint them safely with special lash and eyebrow dye. You can choose from several different shades that will complement your skin tone and the color of your eyes and hair.
There are so many benefits to eyelash tinting and eyebrow tinting.
You can throw away your congealing mascara. Eyelash tinting will give your lashes a thicker, more prominent look, with each lash evenly tinted and separated.

With eyebrow tinting, you won't even need eyeliner anymore to change or enhance your eyebrow color.

These semi-permanent treatments are waterproof, so after your shower, or after a swim or any other athletic activity, you don't have to apply makeup to your lashes or eyebrows.

Over-the-counter dye kits are not always eye-friendly and can cause allergic reactions.
Following are the tinting treatments: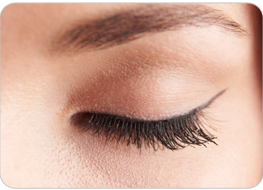 Eyelash Tinting
Do you want to do something really special for your eyelashes? Are they too light? Do they not stand out enough? Do you just want a change?

At our salon, we can tint them safely with special based tints. You can choose from black, light brown or dark brown .The tint will last up to four weeks. Give your eyelashes a treat, and give them new life in our salon.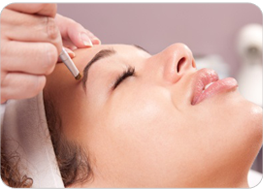 Eyebrow Tinting
Imagine waking up first thing in the morning, looking into the mirror, and looking good – just as if you had already put on your make-up!

That is one of the benefits of our eyebrow tinting treatment. With eyebrow tinting, your brows will look fuller and thicker, totally complementing your hair and skin tones. Sometimes we suggest that we shape your eyebrows after the tinting process to give your brow line an optimum classy look.

After your eyebrow tinting treatment, you can throw away your eyebrow pencils. We know you will be totally satisfied with your new look.
Combination Eyebrow/Eyelash Tinting
Get the best of both worlds with our studio's combination eyebrow and eyelash tinting services. You can choose from black, light brown or dark brown. You will be amazed at how much more lovely your eyes look after the comb tinting treatment at our Studio.
Give yourself a treat. After our eyebrow and eyelash tinting winning combination, you will look more vivacious, brighter, and younger.
Blink Threading Waxing Studio – Services
we are good at what we do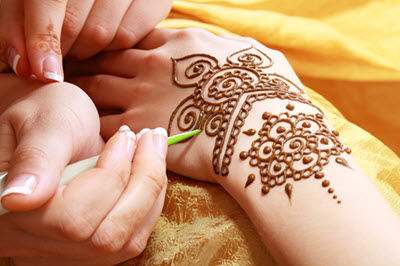 Our artwork combines designs from both Indian & Arabic cultures giving you a completely bespoke service to suit your needs. We have many designs to choose from. Using unique natural ingredients, our mehndi has added depth in colour, which in turn helps it last for days on end. We DO NOT use 'black henna' which has an added chemical called PPD & is known for burning the skin in some cases. The services we provide are all reasonably priced. We are available for all occasions.
We Will Help You Every Step Of The Way